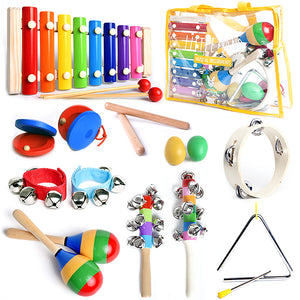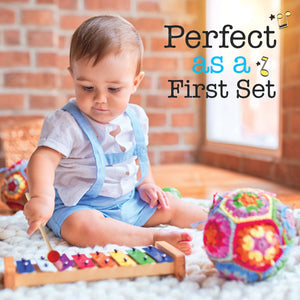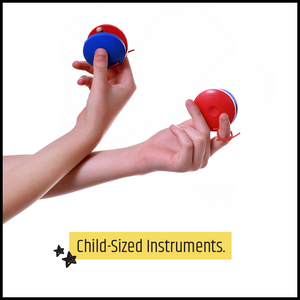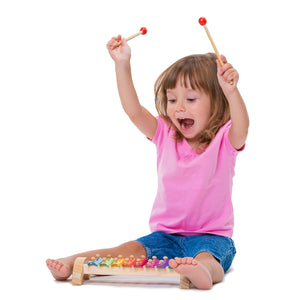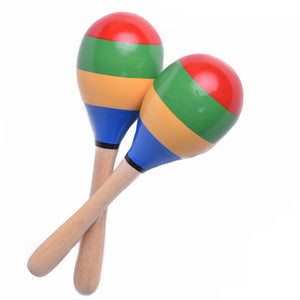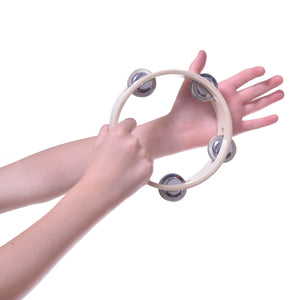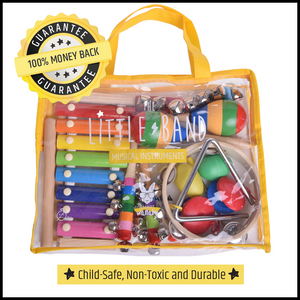 Other options
     
PRODUCT DESCRIPTION

Introduce your toddler to the fantastic world of music and allow them to benefit from its countless developmental rewards. Multiple studies have found that music highly contributes to children's creativity, concentration, development, and intelligence and improves motor skills, hand-eye coordination, and rhythm.
Our Little Band set offers all your child needs to get started! A variety of 15 high-quality colorful instruments, scaled-down to a child's size and packed into a cute carrying bag for easy pickup and carrying around to music class or playdates.
All the Little Band set instruments are 100% child-safe, non-toxic, and CPSC-compliant.
Buy now for hours of fun bonding family quality time!
DETAILS & SIZE

Width: 13 inches, Length: 2.5 inches, Height: 10.2
 Weight: 2.35 pounds
Material Type: Natural wood, Metal
pcs: 15
storage: Backpack
DELIVERY TERMS

We offer FREE standard shipping (5-7 working days) across our site.
We will ship your order via the fastest service available according to your location, often via Amazon.
We are currently shipping only within the USA's 48 contiguous states, not including APO, FPO, and DPO addresses.
FREQUENTLY ASKED QUESTIONS
Are all the instruments and paints lead-free?
Yes. We use lead-free materials, paints, and coatings only.
Are all the instruments phthalates-free?
Yes. We use phthalates-free materials only.
Are these instruments safe for my child?
Yes. All the items in our set including all paints and coatings have been tested for compliance with all CPSC's requirements for children's toys.
What material are the instruments made of?
Mostly natural wood. Durable plastics and quality metals are used wherever required.
Where is this made?
Like many other quality products, we produce our instruments in China. Each item undergoes a strict QC inspection and laboratory physical and compliance tests.
What ages does the set fit?
Please note that the set contains small parts, and is not recommended for children under 3 years old. While children as young as 8 months old can enjoy the instruments that do not contain small parts, if your child is under 3 years old or still puts things into his mouth, do not let them play with this set.
What benefits do musical instruments have for my child?
There is a rare consensus amongst researchers from a wide diversity of expertise worldwide regarding the numerous cognitive and physical rewards of music education for young children. A partial list of the main ones must include eye-hand coordination, fine motor skills, strengthening the neuron networks that process sound, language, and communication, engaging areas of the brain responsible for decision-making, focusing attention, and inhibiting impulses.