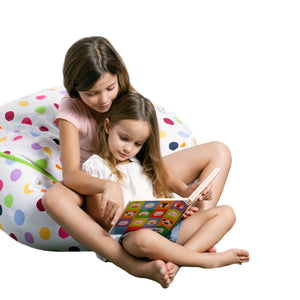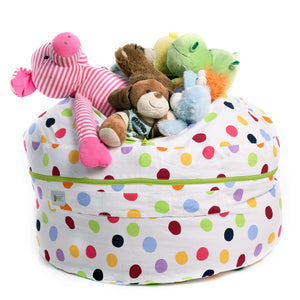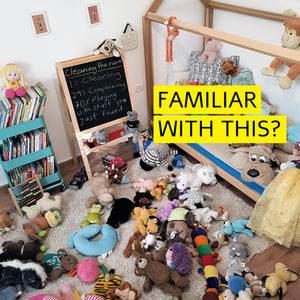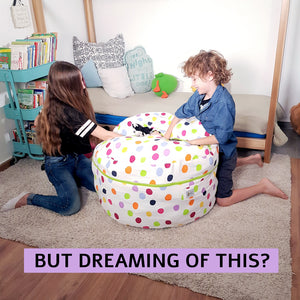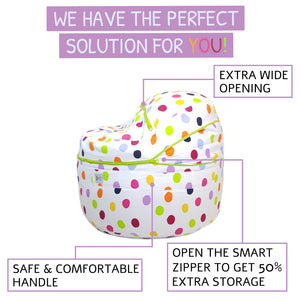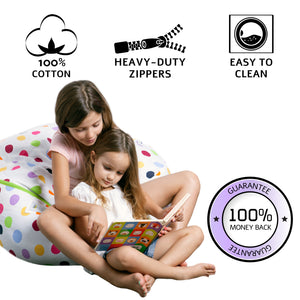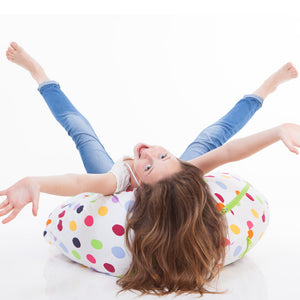 PRODUCT DESCRIPTION

Cleanup Time Made Fun: Kids will enjoy cleaning up after playtime with our stuffed animal storage bean bag chair that organizes stuffed toys & serves as a comfy chair to relax on while watching TV, reading, or resting.
Expandable to Store More Toys: Be it stuffed animals, seasonal clothing, linens, or extra blankets and pillows, our bean bag chairs for kids keeps clutter out of sight & off the floor! It holds up to 80 Gal. of items when expanded!
Safe & Easy to Use for Kids: Our storage bean bag lets youngsters comfortably sit or lie down. The dedicated sitting area is free of stitches or zippers to ensure comfort in every position.
Unique Designs to Match Any Room: Available in multiple eye-catching patterns, our bean bag chair will complement your kid's room, playroom, and even the living room!
Fuss-Free Way to Organize Clutter: Teaching kids to put back their stuffed animals is easy as 1-2-3 with our kids' bean bags—no more tantrums! 
Click 'Add to Cart' now for a gift your kids or grandchildren will love!
 *COVER ONLY - pictured toys, blankets, pillows, and linens are not included.
DETAILS & SIZE

31 inches in diameter

Height when expanded: 23 Inches

Height when collapsed: 15 Inches

Max. storage volume: 80 Gallons

Weight: 2.14 pounds (empty)


Material: 100% cotton canvas

Can be machine washed and dried in low heat
DELIVERY TERMS
We offer FREE standard shipping (5-7 working days) across our site.
We will ship your order via the fastest service available according to your location, often via Amazon.
We are currently shipping only within the USA's 48 contiguous states, not including APO, FPO, and DPO addresses.
FREQUENTLY ASKED QUESTIONS
Can I machine wash my bean bag?
Yes. You can machine wash your bean bag at a low heat of 80 degrees. Do not bleach or iron.
Can I machine-dry my bean bag?
Yes. You can machine dry your bean bag at low heat.
What material is this made out of?
100% cotton.
Can two kids fit on this together?
Yes. 2 kids can easily relax on the bean bag simultaneously.
Can an adult relax on this comfortably?
Yes. The adult might even be able to take a short nap if the kids are quiet enough…
Why is the Smart Wallaby bean bag known to be more comfortable than other storage bean bags?
Smart Wallaby bean bag is round and not ball-shaped and has a designated sitting area which makes kicking back and relaxing in it a pleasure.
Why do you say it's a 2-sizes-in-1 bag?
Our patented expansion "smart zipper" allows you to expand or collapse the bag according to your storage needs. For example – when you want to store winter clothes or blankets during the summer, you can expand it by opening the smart zipper and get 50% extra storage!
How many full-sized blankets can the bean bag hold?
About 10.
How many stuffed animals can the bag hold?
Plenty! We were able to fit over 100 medium-sized stuffed animals. Check out our videos, and you'll get a general sense of how big it is.
What diameter is the bean bag?
31 inches.
How high is the bean bag?
When the smart zipper is closed, 15". When the smart zipper is opened, 23".
What is the storage volume of the bean bag?
When the smart zipper is closed, 53 Gal. When the smart zipper is opened, 80 Gal.
Is it easy for young kids to get their stuffed animals out to play with?
Yes. We took care of that by creating a huge opening zipper allowing them to dig in easily.
Is it easy for young kids to put their stuffed animals in the bag?
Yes. The huge opening zipper makes it easy for kids to throw their plush toys in. In addition, the fact that all their stuffies go into just one easy-to-fill bag, and the fact that they are rewarded with a comfy seat right after they are done, helps to teach children to tidy up their rooms.
Can you fill the bag with bean bag filler?
Yes. However, you must first add an inner lycra bag (not included).
Is the zipper comfortable to sit on?
There's no reason to sit on the zipper; our bean bag has a designated sitting area, clear of any zippers.
I just received my smart wallaby. Where are the cleaning instructions?
Look for the cleaning label inside your bean bag.
Is it comfortable to sit on when it's filled with stuffed animals?
We propose to fill the bottom of the bag with blankets or pillows and only then add the stuffed animals. Once done, flip the bag over so the opening zipper is at the bottom and the designated sitting area is at the top. We recommend filling the bag at about 80% for maximum convenience.
Is the fabric treated with flame retardants?
No. These bean bags are made for children, and flame retardants have been found to emit toxic chemicals. Here's a quote from the "National Institutes of Environmental Health Sciences" website:
"Although flame retardants can offer benefits when they are added to some products,
a growing body of evidence shows that many of these chemicals are associated with adverse health effects in animals and humans. These include:
Endocrine and thyroid disruption
Impacts on the immune system
Reproductive toxicity
Cancer
Adverse effects on fetal and child development
Neurologic function

Who is most vulnerable?
Children may be particularly vulnerable to the toxic effects of these chemicals because their brains and other organs are still developing. In addition, hand-to-mouth behavior and proximity to the floor increase the potential of children to be exposed to flame retardants.
Researchers have found that children have higher concentrations of flame retardants in their bodies than adults."
MORE DESIGN OPTIONS